Mortgage
MBA Releases October Mortgage Finance Forecast
Articles by: Richey May, Oct 27, 2016
October 2016
For the 3rd consecutive month, the MBA has adjusted their forecast higher for total mortgage origination volume with the most significant adjustments related to refinances.
Most notably, forecasts for the 4th quarter were increased by 12%, or $53 billion, over the September forecast. The adjustments were primarily driven by higher expectations for refinances which are forecasted to be the largest refi share since Q1 of 2015. Looking on to 2017, refinance volume is forecasted to be $529 billion, which is 5% or $74 billion higher than the MBA's September forecast. Check out Richey May's interactive dashboard for the MBA's mortgage finance forecast on our data analytics webpage. https://www.richeymay.com/industries/mortgage-banking/data-analytics-and-benchmarking/
The below graph highlights how the MBA has changed their forecast over the past three months to be more optimistic on refinance volume.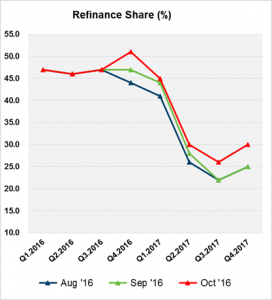 ---